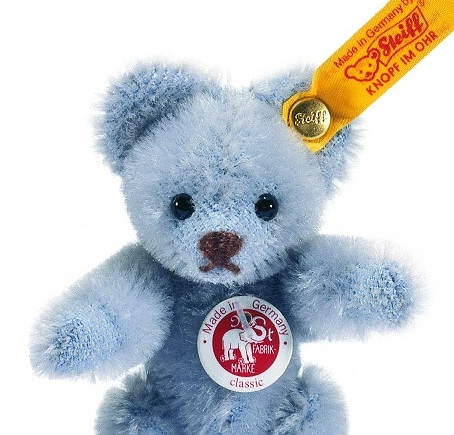 Steiff-The Oldest Stuffed Toy Company
Margarete Steiff first began making soft toys in the 1870s. Confined to a wheelchair since the age of two, due to polio, she became popular with the children of Giengen, her hometown in Germany, with her happy stories.
She owned the first sewing machine in the town, and using the skills she learnt as a dressmaker, first produced a felt elephant in 1877. Soon after, many children were receiving gifts of felt animals, hand-made from scraps of felt from her mother's family's felt factory.
Her popularity soon extended across southern Germany. The success of her enterprise attracted toy buyers from around the world. She had a good business sense and increased production to meet the ever-growing orders.
Demand necessitated that she open her first factory in 1889, known as the Felt Toy Factory. She made sure it was well-lit and airy. Notably, it had glass walls, so that workers could see the nearby hills as they worked! Three of her nephews acted as managing directors, and were also astute businessmen.
From 1880 to 1897, the business continued to grow at a steady rate. In 1897 another nephew, Richard, joined the firm, who had finished art studies in England and Germany. He chose to study and sketch the brown bear cubs in Stuttgart Zoo. These sketches formed the design for the first stuffed toy which had moveable parts, a bear, introduced in 1902, the Bar 55 PB, which was subsequently registered in July, 1903. In 1903 the first shipments of jointed teddy bears went on sale in America. Soon after, they were christened "Teddy' bears, after the President, Theodore Roosevelt.
They became highly popular with both boys as well as girls, and by 1908 were also very trendy for adults!
Margarete would individually inspect every toy before it left the factory, to ensure the highest quality. Imitations began to appear, and so in late 1904 a metal button embossed with an elephant was attached to the left ear to show that each toy had been inspected and found to be perfect, as a quality control measure. In May, 1905, however, the buttons were then embossed 'STEIFF'.
By 1908, two thousand employees were needed to meet demand, in two huge factories. Then, as now, most of the work was done by hand. Giengen grew rapidly due to the success of Steiff. Appreciation and admiration for Margarete is now shown in the naming of its main street after her.
Today, Steiff is still known for its innovation, superb quality and extensive range. Vintage and antique Steiff teddy bears and animals therefore  command high prices.  Dating of each toy is possible through the button in the ear, as these varied over the company's 130 year history, as well as by the materials used, and by reference to the old catalogues and advertisements.