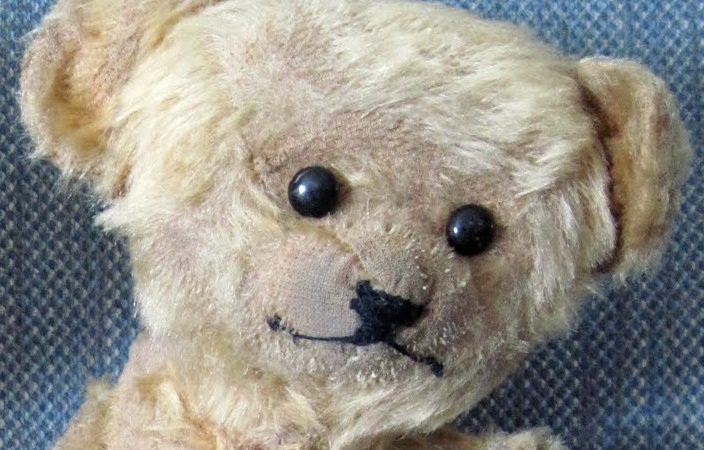 Antique Bears-Caring For Collectable Teddy Bears
Collecting teddy bears is now a popular, and often expensive, hobby. Collectable bears can cost up to six-figure sums! It is therefore important to care for teddy investments, both to preserve their value and their appeal.
CLEANING
How teddy bears are cleaned depends on the materials used, and their age.
ANTIQUE TEDDIES–  old teddies require very careful cleaning. Incorrect treatment can cause teddy all sorts of grief! It is not so much the fur used that can create a problem, but the stuffing. Cleaning should be avoided if possible.
–woodwool (excelsior)-this stuffing feels 'crunchy' if you squeeze teddy and the bears are relatively light in weight. These teddies must NOT be washed. To do so will cause the filling to leach brown stains through the fur  as it dries. Only if teddy has suffered a corrosive mishap (such as pet urine) should this cleaning option be considered, and then only to the affected areas. Use wool wash in lukewarm water, and use towels to wrap the washed areas in. Use fresh towels to absorb further moisture, and then a hair dryer or heater to finish the drying process as quickly as possible.
Alternately, use only the foam from wool wash agitated in a bowl of water, and applied with a soft cloth, to spot clean teddy, then pat with a soft cloth. Dry with a heater or hair dryer. Again, use this method only if absolutely necessary.
Preferably, spot cleaning can be carefully done with a dab of dry cleaning fluid.
–kapok-is the cream silky inner fibre of a tropical seed. It was used during the 1930s-60s as a teddy filling, and created a heavier, more solidly packed bear than those stuffed with woodwool.
Kapok is more resilient to cleaning than woodwool, though cleaning should still be avoided if possible. It is advisable to use the methods given for cleaning woodwool. Water and wool wash may result in the stuffing settling into some awkward places unless care is taken to avoid this, by keeping teddy horizontal and by removing moisture as quickly as possible with dry towels and a hair dryer.
–modern mohair collectors' teddy bears-may be stuffed with synthetic stuffing, such as polyester wadding, and come with washing instructions. Often these bears may be hand-washed.
–synthetic fabrics– From the 1960s to the present, bears such as the unjointed Joy Toys, Wendy Boston, Jakas and Verna types, were often made specifically to be washed in the washing machine! They were marketed as 'child safe' and hygienic, with plastic safety eyes. These teddies usually have outstretched arms.
Handwashing of synthetic teddy bears is still advisable, followed by wrapping in a towel to remove excess water, and a blow-dry, to give teddy that coiffured look!
Keeping the teddy collection clean and dry will prolong the life of the fabrics and materials used. If humidity is a problem, either try storing them in an acid-free box with moisture-absorbing crystals (such as those inside vitamin bottles!), or inside a glass-fronted display case, again with the crystals.
PRESERVATION
Woodwool stuffing is a special favourite of insects such as moths. All antique teddies should be stored or displayed with cedar balls, moth balls, or a similar insect deterent. A regular brush will also help to lower the incidence of insect attack, by removing dust. Displaying in a glass case also helps to protect from insects, as well as dog attacks and sticky fingers!
If signs of insect infestation are aleady present (small holes, moth cases etc), teddy should either be wrapped in a  moisture-tight plastic bag and placed in the freezer for 48 hours, or secured in a plastic bag with moth balls for 48 hours.
It is also a good idea to give your teddies the occasional brush with a soft-bristled brush, so that dirt does not build up in the fur, and keeps them brighter.