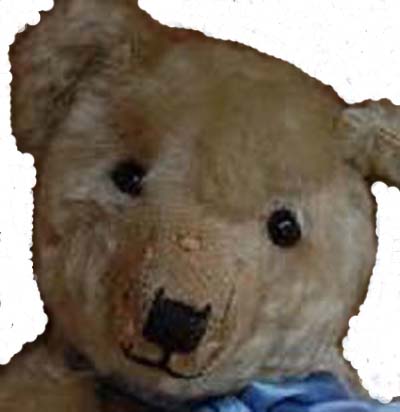 The Chiltern teddy factory initially began in London, in 1908, when Joseph Eisenmann opened the  Chiltern Toy Works. It produced many types of toys, with the first teddy appearing in 1915, being the 'Master Teddy'. Unusually, the body was made from linen, and was dressed in a shirt and overalls. His head was comparatively large, with large opaque glass eyes and small ears. The big grin is distinctive and appealing!  This teddy was produced in different sizes, and is highly collectable! In 1919, however,  Leon Rees took over the company upon the death of Joseph. It was not until 1920, though, that he went into partnership with H G Stone, to create the firm of H G Stone and Company. It operated from the Chiltern factory.
The business was successful, enabling the men to open a second factory in 1921, with the name €˜Chiltern Toys€™ first used in 1923 when the €˜Hugmee€™ range of teddy bears was introduced. These bears did not have a cloth label, but only a cardboard chest tag reading €˜Chiltern Toys Trademark/Made In England€™. The Hugmee teddies became the main range produced from the 1920s to the 1950s. Distinctively, the embroidered noses on the bears resembled those of Joy Toys, Emil and some Farnell teddies, having an outer stitch raised higher on each side. Each bear was fully jointed though. Made from mohair, they had woodwool stuffing in the head and kapok in the body. Pads were often of velveteen or cotton, spoon-shaped, with four claws on each paw and five above each foot pad. Eyes were of clear glass with black pupils, whilst the embroidered mouth was of the typical happy smile. 1940s Hugmees, however, had blunter muzzles, in order to save fabric during war time, and often had rexine pads. During the 1950s, the Hugmees were similar, made of quality mohair, and now had a printed label attached the one foot pad.
A new factory opened in 1929, taking over all production, including the €˜Silky teddy€™, made from art silk plush. Art silk bears of the 40s had a sadder face, with large round ears, smaller feet and were stuffed with cotton €˜sub€™. Often they also had a music box inside.

Teddies from 1945-67 had a label which read 'Chiltern Hygienic Toys/Made In England.
In 1967 Chad Valley took over the company. Tags at this point carried both names- €˜Chad Valley/Chiltern' until 1973 when a further take-over closed all but two of the Chad Valley factories.