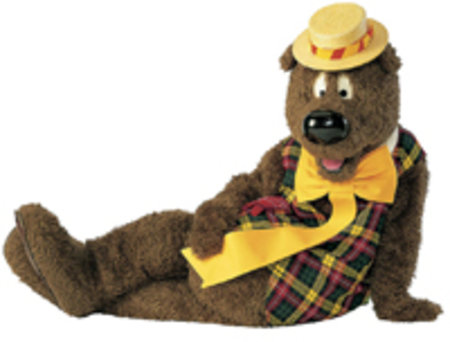 Humphrey B Bear-History And Collectables
Humphrey B Bear was one of the longest running children's television programmes in Australia. Running for over 3,000 episodes, his image has been immortalised on countless toys and other products! Many of these are now collectable.
Humphrey Makes An Appearance
Humphrey, the honey-loving, accident-prone bear first appeared in his own show on 24th May, 1965, and only ceased production in 2009. He bears similarities to an Australian predecessor, Fredd Bear, who starred in Fredd Bear's Breakfast A Go-Go in 1964. Later, Fredd and his female friend, Fee Fee were characters in the highly popular The Magic Circle Club (1965).
A Toy Is Born!
Consequently, the very first Humphrey B Bear soft toys look very similar to Fredd Bear. Made of a dark brown artificial silk plush, Humphrey had short stumpy legs, a bulging pot belly and a large head with small ears. Eyes were made of white vinyl with black plastic button 'pupils', whilst the nose was very large and black plastic. He wore a plastic yellow 'boater' hat, and tartan fabric (removable) waistcoat/vest. Difficult to find, these original Humphries are usually naked! Stuffing was crumbed rubber, packed firmly, and so, as the toys stood 45cm tall, they were quite heavy.
1969-Early 1990s.
Classic Toys P/L of Adelaide obtained the exclusive rights to produce Humphrey merchandise in 1969. Together with Southern Television Corp P/L (a subsidiary of News Ltd, and owner of Humphrey Bear through Channel 9, Adelaide), this company made most of the Humphrey memorabilia until the mid 1980s, when high costs forced production to be moved overseas. It also made Humphrey's suits!
In the early 1990s, the partnership was dissolved, and the exclusive licence was lost.
Metti Toys manufactured rubber toys of Humphrey in the late 1960s. A 1968 version is incised 'Metti Toys'. Standing 25cm tall, it has painted features.
Typically, in 1973, a plush Humphrey was made of short grey plush fabric with black and white plastic eyes glued on. With a black fabric nose and red felt tongue, he did not have paw pads. Clothing was sewn on-a yellow plastic boater and red plaid fabric waistcoat. The white vinyl collar with fabric tie was often removable.
Other products manufactured from the 1960s onwards included metal money boxes and lunch boxes, vinyl records, night
lights and books!
Early 1990s-2009.
Banksia Productions now 'owned' Humphrey. The range of merchandise produced now was extensive, including doona covers, ceramic money boxes and crockery, backpacks, CDs, and fabric! Humphrey soft toys have been made in sizes from 15cm to 90cm!
Banksia Productions owned the intellectual property rights and marketing rights to Humphrey B Bear until 2009, when, due to heavy debts, it went in insolvency. A dispute over the rights is still in the courts as various charity organisations fight for the use of Humphrey's image to raise funds.
Everything New Is Not Old!
Quite a bit of confusion surrounds the age, and therefore the value, of 'old' Humphrey toys. Classic Toys used the same labels during all years of manufacture, and therefore 1990s toys are tagged the same way as 1960s Humphries. It is in the appearance that the toys can be dated. Newer Humphries are made of a fluffy longer-haired brown fur. Older ones are made from dark brown art silk plush, or short-pile grey plush, and are much more collectable!
Values
1965 plush Humphrey: $80-$150
1960s metal lunchbox: $30-$80
1973 plush Humphrey: $20-$50