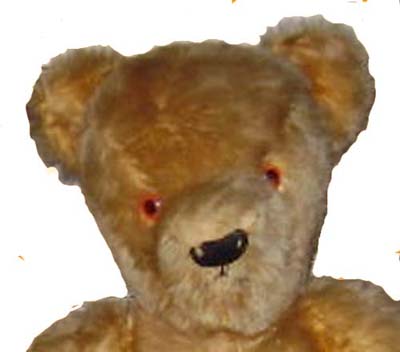 Verna Teddy Bears And Dolls
Trading as the Verna Toy Company, Eva Barnett began producing dolls and soft toys in 1941, in Melbourne. Known as a quality and creative doll maker, it was not until 1948, when ownership changed to Arthur Eaton, that teddies began to be produced.
1941-1948
Verna dolls were often made of fabric or felt, with cloth mask (buckram) faces, and were stuffed with kapok. This filling felt soft in smaller dolls but created a much heavier large doll!  It was also difficult to wash successfully as it tended to clump and settle in awkward ways!
1948-1960
Teddy bears became Verna's main product. These earliest bears were fully jointed, usually made from medium pile golden mohair, and stuffed with kapok, or a kapok/woodwool blend. Therefore, they were quite heavy for their size. Eyes were glass, with black pupils, and painted orange on the backs. Often they had tilt growlers, with the paw pads made from heavy cotton or vinyl. Distinctively, Verna teddies had a blunt muzzle, which gave them a flat muzzle profile, and had a black kidney-shaped piece of felt on the nose. This often rubbed off over time, leaving teddy nose-less. Each came tagged with an embroidered tag saying 'VERNA/MADE IN AUSTRALIA' in pale orange letters, on a white background.
1960s-70s
With advancements in production, and changes in the expectations of consumers, toys became cheaper and more plentiful. Together with new safety regulations, plastic eyes were now required to be used in children's toys and a greater range of synthetic fur was developed. Verna teddies from this period were no longer jointed, having arms outstetched, and with a moulded foam rubber filling. Pads were often made of vinyl during the 1960s, with later 1970s ones having pads of the same fabric. The distictive blunt muzzle was still retained, with the plastic eyes having black pupils and orange surrounds. The nose was a black, round and embroidered, or cloth, later ones being made of black plastic. A variety of teddies and pandas was produced, in various colours.
1980s
With a reduction in import tariffs, in the late 1970s-early 1980s, the subsequent influx of cheap Asian toys severely affected the Australian toy market. Verna attempted to remain in the market by producing a range of cheaper teddies. These were very similar to those made in China at that time, and could have been made in China rather than Australia. Each was jointed with plastic joints, made of synthetic fabric and with plastic eyes. They are often confused with the Chinese teddies, and are only distinguishable by the printed tag.
The company could not remain viable, and ceased production in the early 1990s.
Verna teddies and dolls are very collectable, with the earliest teddies fetching $200-$500 in the Australian market, depending on size, appeal and condition. 1960s unjointed teddies sell for between $30-$70.