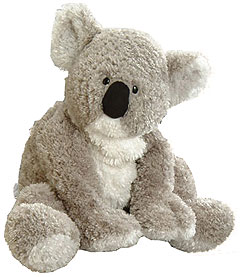 The koala is an iconic Australian marsupial. Cute and soft, it was inevitable it would be made into soft toys!
1920s
Australia's 'bear', the koala became a popular subject for toys in the 1920s. The first soft toy koalas were made of koala, wallaby or kangaroo fur, with jointed arms, legs and head. Eyes were made of leather shoe buttons with a pure rubber nose. These noses have tended over time to become hard and brittle. Claws were leather. These toys are comparatively rare and highly collectable. Stuffed with woodwool, they have also become a favourite with insect infestations!
Koalas also became a very popular and fashionable trend during the 1920s. A wide range of koala merchandise was produced, not just for children but also for women and the home. These included koala tea cosies, muffs, purses and handbags! Each was also made from the same materials as the soft toys-fur, shoe buttons and leather. Knitting patterns for tea cosies offered another alternative for the home!
Many commercial teddy bear manufacturers also made koalas in the range. Steiff, the famous German manufacturer, as did Deans in England, and others around the world, produced mohair versions with glass eyes, and stuffed with woodwool.
1930s
Koala toys continued to be popular. Generally they were now produced from kangaroo fur, but were often no longer jointed, having a fixed head and limbs. The arms and legs were outstretched in a 'starfish' shape, and still with shoe button eyes, and leather claws and nose.
Sheepskin versions were also made, also with these features, and stuffed with woodwool.
Koalas made their way into popular children's literature at this time, such as Blinky Bill!
1940s-50s
The koala toys of this period now had glass eyes and had leather noses, though increasingly synthetic rubber was used. Kapok or a kapok-woodwool blend was used as the stuffing. The shape remained the same as earlier versions! Unjointed, with outstretched arms, they continued to be able to sit on their bottoms unaided.
1960s
Glass eyes were now used, with kapok as the stuffing. These koala toys, made from kangaroo fur, tended to be lighter in colour than the very early ones, of wallaby, rabbit or koala fur, which were longer and darker. A common problem with the kangaroo skin toys is thinning of the fur and bald patches. This could have been due to problems in the tanning process.
1970s-present
Koala toys were still made from kangaroo skin, with synthetic rubber noses and claws, in the starfish shape. Kapok-filled, they needed to comply with new safety regulations and therefore to have plastic safety eyes. Increasingly, though, the koalas were made from synthetic fur, as public condemnation of the use of animal fur increased.
Koalas continue to be most popular as souvenirs of Australia, by overseas tourists. One of the earliest and most prolific companies responsible for their production is Morella.

Morella was, and is, largely known for its tourist trade toys. Morella started making its range of fur souvenir koalas, kangaroos and teddy bears in the 1930s. Made from wallaby or kangaroo fur, these early toys were filled with cork or woodwool, and later with rubber or flock.

Paramount had a popular range made from rabbit fur, during the 1950s, and examples with tags can still be found.
Many other companies continue to also include koalas in their range. The appeal of the koala ensures it will remain a popular toy!
Values
Most early koalas are unlabelled. Values given show the range from that expected at a market, to that in an antique shop or fair.
1920s jointed-$80-$300
1920s tea cosy-$70
1930s-$45-$200
1940s-50s-$30-$140
1970s kangaroo skin-$10-$40