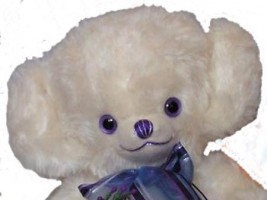 The Merrythought toy factory was opened in 1930 in Shropshire, England by two business partners in a spinning mill, H. Lawton and W. Holmes. The mill produced mohair yarn and so the toy factory was established to produce toys from this yarn. Florence Attwood (from the Chad Valley factory) became the head designer until her death in 1949. Merrythought was a very successful company from its inception, moving to larger premises on 1931, and is still in operation today from this factory! The word 'Merrythought' is an old English word for 'wishbone'.
The first teddy bears were produced in 1930, from mohair, and with a long snout and soft-stuffed. In 1931 the original Merrythought teddies were also created in a range of artificial silk colours, amd in ten different sizes of mohair! Most of the work was hand-done, and the facial features, paw embroidery and stuffing are still completed by hand today.
During the early 1930s a range of animals was also made, including the Lawson Wood monkey. Now a famous example of Merrythought's ingenuity, this monkey has a moulded face designed by the artist. The Bingie range of bears was also brought into production at this time. Bingie was firstly a sitting cub, then a movable bear with jointed legs, and in 1933 more versions were added, wearing a variety of costumes, such as a sailor.
The factory became, during the 1930s, the largest producer of soft toys in England. WW2 halted production, though, when the factory was acquired for the war effort, and was responsible for making maps, and the company itself assisted the war effort by producing such items as gas mask bags.
Production began again in 1946. As materials were scarce, designs were altered accordingly to accommodate for this. The 'print teddy', for example, incorporated a fabric body with a mohair head, so as to reduce the amount of mohair used, which was in short supply. In 1971 synthetic plush was used for the first time.
During the 1950s, many Walt Disney characters were produced as soft toys by Merrythought. The Winnie The Pooh range was very successful, and was made until 1980.
One of the most popular ranges has been the Cheeky bears. First created and exhibited at a trade fair in 1956, he is very distinctive with his large head, velvet muzzle and wide smile! Â The first Cheekies were made of mohair, stuffed with kapok and featured bells in their ears. Nylon versions were first produced in 196o. Other Cheeky characters were created, including glove puppets and muffs.
Merrythought teddies are highly collectable and early versions can command high prices.
Labels:
Earliest labels (1930s)-'MADE IN ENGLAND BY/MERRYTHOUGHT/LTD
1930s-57-'MERRYTHOUGHT/HYGIENIC TOYS/MADE IN ENGLAND
1957-1991 Cheeky label-'MERRYTHOUGHT/IRONBRIDGE SHROPS/MADE IN ENGLAND