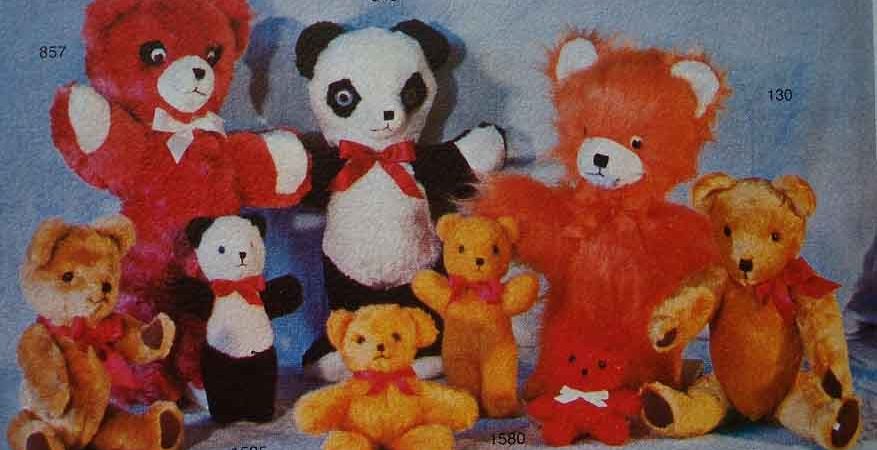 Joy Toys-A 1970s Catalogue
In the early 1970s, Joy Toys was competing in a changed market. The removal of tariffs meant that toys produced more cheaply in Asia were able to flood the market, and this led to the closure of a large proportion of what had previously been very successful Australian toy companies.
This catalogue, produced in about 1971-3, illustrates the changing production that Joy Toys undertook, to try and remain in business. It was a time of transition, from the more expensive and labour-intensive quality of the 1920s-60s, to cheaper, synthetic (and more competitive) toy production.
The range of teddies shows that  the company still produced their quality mohair, jointed teddies. Each had brown velour pads, glass eyes, and the Joy Toys embroidered smiling mouth. This traditional style of teddy came in five sizes. Along side these bears, were the unjointed synthetic teddies and pandas. In bright colours and with plastic google eyes, they could be offered for sale at a much lower price. Other versions of this style had long, tipped synthetic fur. Interestingly, the smaller teddy and panda, with outstretched arms, were sold in clear plastic cylinders!
The company also produced a range of animals. Giraffes were available in sizes from 41cm to 117cm, with a similar 'look' to those made in the 1950s, but with slightly different materials and with plastic (not glass) eyes. Lions and tigers, donkeys (from 32-104cm), cats, dogs, ducks, kangaroos and chickens in various styles were also offered, as was a golly.
Novelty toys were popular. Pouffes were made in a range of animals, in colourful synthetic fabrics, with plastic eyes and were solidly foam-filled. Wheeled ride-on animals, in sizes from 38-53cm, could also be used as walkers or pre-walkers. These were mostly animals, with the additional of a train! Similar to the 1950s and 60s versions, they had  plastic eyes though, and red or purple tags.
Joy Toys, unfortunately, was unable to remain in business, and closed in 1976.
** The Sandown Toy Collectors' Fair**
Sunday, May 6th, Sandown Race Course, Melbourne: 9am-3pm*
(*small admission fee)
We have decided to sell some of our collection of teddies and soft toys at this fair! We will be selling many toys by Joy Toys, Verna, Emil, Jakas, and Lindee, as well as many very old koalas, teddies and toys by Steiff, Hermann, (etc) and the very earliest Humphreys! (All will be at reasonable prices). If you are able to come along, please feel free to say 'hi'-we'll be the ones behind the table full of old soft toys!