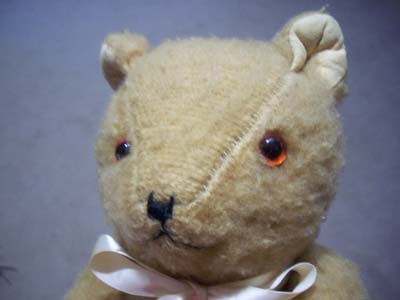 Australian Vintage Teddy Bears
The first teddies appeared on the world market in 1902/3. It was only after WW1 when Australia began to be less reliant on imports and manufactured more products, that teddy bear production officially began.Joy Toys in Melbourne (1923) and Fideston in Bunbury, WA, were the first significant producers of teddies in Australia.
Fideston commenced business as a book and music store in Perth, by Richard and Louise Fiddes. In 1921 the Fideston Toy Company was registered. It brought out a range of high quality teddies and other soft toys, with over 1,000 teddies being hand-made per month! As these toys were not labelled with tags, they are usually identified by the cone-shaped muzzle, broad head and triangular (split-leather) paw pads. With high-quality glass eyes, long silky mohair and woodwool stuffing, Fideston bears are relatively rare, and valued by collectors.
The firm closed down during WW2 after nineteen years of production.
Value: $1,000+
The 1930s and 40s saw several other quality makers enter the market:
Lindee was situated in Sydney, and was a prolific manufacturer of toys from 1944 to 1976, owned by Mr and Mrs Lindenberg. It is well-known for its range of lovely dolls, soft toys and gollies, as well as its bears, made from English mohair, with vinyl paws and glass eyes. With larger rounded heads and cotton flock stuffing, these bears resemble English teddies of the same period. Crumbed rubber was used as stuffing in the 1950s. The distictive Lindee embroidered tag of a sitting fawn and the words "Lindee Toys/ The Prestige Name In Soft Toys" was sewn into the paw pad, though the distictive square muzzle of Lindee bears helps to identify unlabelled examples.
The business was sold in 1969, but continued to produce bears, of a lesser quality, for the next seven years.
Value: $275  (older examples).
Emil, from the 1930s till the mid 1970s, produced its teddy bears from several factories in Melbourne. Early bears were made from imported mohair, with pads of oilcloth, and had tapered front paws. Eyes were glass, and bodies filled with excelsior and kapok. The noses of Emil bears help to identify them, having two outside stitches longer than the inner stitches. 1950s bears often have vinyl pads, lesser quality mohair and stiff necks.
With their sweet look, Emil teddies are highly collectable.
Value: $300 (1940s).
Berlex began in the early 1950s. Lex Bertrand commenced his company making golly wogs, bears, soft toys and dolls of high quality. The bears were made from the best mohair, with white leatherette or vinyl pads and a distictive stitched triangular nose. Berlex teddies often have a rounder, sweet face.
Value: $300 (1940s).
Verna-the Verna Toy Company began production in 1941 in Victoria, as a doll maker. After ownership changed in 1948, teddy bears were also produced. With a distictive blunt muzzle, early bears were made from mohair, fully jointed, and stuffed with woodwool. Later versions often had a kidney-shaped piece of felt attached over the nose, Foam rubber was used as the stuffing after 1960, when eyes became plastic and pads were made of vinyl or the same fabric as the body which was made in the unjointed starfish shape.
Value: $250 (1950s).
Barton Waugh traded from Hurstville in Sydney from the 1950s to the late 1960s. Named "Bruno", the bears had large square-shaped heads and small ears. Pads were brown leatherette. The mohair used was of inferior quality and as such, most Brunos are now bald!
Value: $300+
Jakas was the last major producer to close, in the 1990s. Jakas was based in Melbourne, since 1954. One of the most prolific makers, it produced a huge range of soft toys. The earliest bears were made of mohair and fully jointed, however from the 1960s the distictive outstretched arms were made in synthetic fabrics, with safety eyes, crumbed rubber filling, and machine washable. 1960s bears have the tag "Jakas Toys/Wash In Lukewarm Lux". Later versions say "Jakas Toys/ Made In Australia", and were made in many wonderful clours.
Value: $400 (earliest bears).
Morella was, and is, largely known for its tourist trade toys. Morella started making its range of fur souvenir koalas, kangaroos and teddy bears in the 1930s. Made from wallaby or kangaroo fur, these early toys were filled with cork or woodwool, and later with rubber or flock. 1930s and 40s toys had shoebutton eyes, with rubber noses and leather claws. From the 1950s the eyes were glass and the claws rubber. Only in the 1930s were they fully jointed; the arms outstretched version began production in the 1940s.
Value: $200 (earliest versions).
With the lifting of tariffs on imported toys in the late 1960s and early 1970s, most Australian makers could not compete with the cheap Asian imports, and closed their doors.
Artist bears, exported worldwide, now showcase Australia's quality bear making.