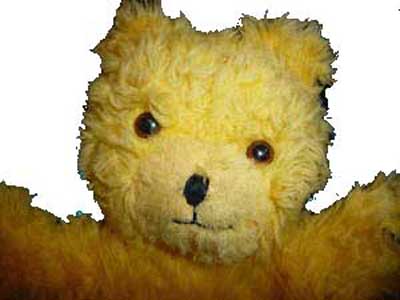 Jakas began production in 1954 in Melbourne by Marion Stanford, reaching its peak in the 1960s-80s. Sought-after, Jakas teddies are very collectable.
Early Teddies-1950s
The earliest Jakas bears are comparatively rare. Made from mohair, they were fully jointed and stuffed with kapok. With glass eyes, these bears were good quality but often unlabelled and so harder to attribute to Jakas. Production of these mohair bears was short-lived, as a changing market favoured a different type of teddy.
1960s
The 1960s saw many changes in society that reflected in the teddy market. Technology advanced and consumerism rose! Toys became much more plentiful as industry re-established itself after WW2, and new fabrics were invented. Synthetic fur and plastic joints could now be used. Prices for these were lower than traditional methods and so teddy bear prices dropped. Cheaper goods were more popular!
The influx of cheaper Asian imports also pushed Australian manufacturers to reduce costs and to use cheaper alternatives.
New stringent safety regulations meant glass eyes could no longer be used in children's toys. Jakas introduced a teddy design that was to become their trademark 'look' for the next thirty years. With plastic eyes, some being two-toned (brown with black pupils) and black embroidered nose and almost horizontal mouth, each teddy had a distinctive 'Jakas' face. As did other companies at this time, such as Joy Toys, Verna, and Wendy Boston in England, Jakas bears were now made of synthetic fur, with arms outstretched, though Jakas teddies have their arms curved upwards. Pads (of the same fabric) each had three black thread claws. Distictively, also, the hips were unstuffed, so as to allow teddy to 'sit'. Stuffing was crumbed foam rubber.
A large range of toys was made, all with the typical Jakas face, including bunnies, dogs, baby walkers and pre-walkers, (which were wheeled toys with a handle for the child to push it along with, such as teddies, dogs, horses), and pyjama cases with a strong metal zip underneathe that allowed pyjamas to be stored within the case (cats, dogs), dolls with vinyl faces and plush bodies, and golly wogs with velvet faces, red cotton pants and cotton check 'shirts'.
Teddies were made in many sizes, often golden or light brown. The most famous would be 'Big Ted', immortalized for 45 years in the ABC children's show 'Play School'. Generations of Australian children have grown up with this well-known Jakas teddy bear!
1970s-1980s
Jakas continued to produce an extensive range of soft toys, with the "Jakas' face. The fur of 1970s-90s teddy bears was fluffier, but with the same shape. Stuffing was now polyester wadding.
Jakas remained in production after all the other major Australian manufacturers of its time had ceased producing toys, due to the competition from cheaper imported Asian toys. In 1989, though, this most prolific company was taken over by Wendy McDonald, merging with another company, Koala Mate. The combined comapny now produced limited editions. One range was a limited edition fully jointed teddy, made from wool plush, and with a large black embroidered nose. With large cupped ears, short limbs and velvet paw pads, it did not resemble the traditional Jakas bears!
With their sweet faces, Jakas teddies and soft toys are highly collectable and very popular.
Labels
1960s – red embroidered on white label: 'JAKAS TOYS WASH IN LUKE-WARM LUX'
1970s – red embroidered (or printed) on white label: 'JAKAS TOYS'
1980s – red print on white label: 'JAKAS TOYS'
1980s – limited edition wool teddy-green embroidered on white label: JAKAS SOFT TOYS/MELBOURNE/AUSTRALIA
Values
The lower prices given reflect those that may occur in a market situation, up to those expected in an antique shop.
1950s mohair teddy – $400-$1,000
1960s synthetic teddy – $50-90
1960s wheeled toy – $40-$150
1970s synthetic teddy – $20-$60